Harristown
Harristown, Brannockstown, Kildare, Ireland
t: +353 45 483614
e: hwbeaumont@gmail.com
w:
http://www.harristownhouse.com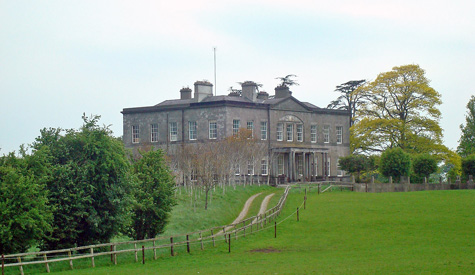 The House
The La Touches were a Huguenots family from the Loire, who fled to Holland on the Revocation of the Edict of Nantes. They later moved to Ireland, becoming involved in the weaving trade and, ultimately, in banking. Founded in 1713, La Touche's Bank traded for more than 170 years and was Dublin's most successful 18th century bank. In 1783 the family was among the original stockholders when the Bank of Ireland was founded and a La Touche was its first Governor. 
The La Touche family were also renowned as philanthropists and as patrons of architecture and the arts, and built a number of important houses in Dublin and the surrounding counties. The second David La Touche bought the Harristown estate in 1768 and it subsequently passed to his second son John, who commissioned the little-known architect Whitmore Davis to design his new great house.
The result was a refined classical cut-stone late Georgian house, in a dominant position overlooking the River Liffey. Nine bays wide by five deep and of three stories, it has a pedimented thee bay-breakfront on the principal façade. There is a wide Ionic porch at the entrance while the three windows above are grouped together under a blind half-elliptical arch.
John La Touche's descendants remained at Harristown until 1921 but the death of the last John La Touche in 1904 marked the end of a colourful era. Originally devoted to hunting, hence his soubriquet 'The Master' he became a Baptist convert and built a church, manse and school at Brannockstown, demolishing Portlester Castle as a source of building materials.
Possibly the most interesting visitor to Harristown during his tenure was John Ruskin, the celebrated writer and art critic who was one of the most influential figures of the Victorian age. Lady Maria La Touche sought Ruskin's help in developing the artistic tastes of her precocious and talented younger daughter Rose. Master and pupil fell in love but when Rose came of age she refused to marry him and she subsequently died in an asylum.
In 1901 Harristown was destroyed by fire and was rebuilt by James Franklin Fuller without the upper storey. In 1946 Major Michael Beaumont and his wife Doreen bought the estate and set about a major programme of restoration. They installed furniture and pictures from their former home at Wotton, in Buckinghamshire, where Sir John Soane had designed the interior.
Doreen Beaumont brought many Soanian influences to bear in decorating the house, including colours that are not traditionally associated with Georgian taste, and these help to overcome Fuller's lack of sympathy with the late 18th century interiors. The front hall is a magnificent double height room and gives access to the three main reception rooms, the library, drawing room and dining room. Perhaps Harristown's best-kept secret is the 17th Century Chinese wallpaper and the Tudor paneling.
The Beaumont family is deeply committed to maintaining Harristown and farming the estate.
Information
School visits or programmes
Open to pre-booked groups (minimum 6)
Open to individuals
Park or garden open
Available for weddings
Available for functions or corporate events
Available as a film location
Opening Hours
Open May 3rd-27th.
And September 5th-29th.
10.00 am to 2.00 pm
Closed Thursdays