Clonalis House
Clonalis House , Castlerea, Roscommon, Ireland
t: +353 9496 20014
e: info@clonalis.com
w:
http://www.clonalis.com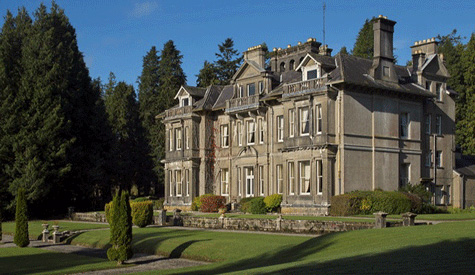 The House
Clonalis is the ancestral home of the O Conors of Connaught, descendants of Ireland's last High Kings and traditional Kings of Connaught.
This estate has been in the continuous possession of the O Conor family for over 1500 years. Even today, many people still regard these lands as the last remnant of the ancient kingdom of Connaught.
The present Clonalis House, built in 1878 by Charles Owen O Conor Don, replaces an early 18th century dwelling on a low-lying site beside the River Suck. Its English architect, Frederick Pepys Cockrell, was attempting to establish a practice in Ireland and he designed Clonalis in a style that combines Victorian Italianate with the Queen Anne taste fashionable at that period.
The entrance front has a central tower while the garden front is symmetrical, with projecting end-bays, gables and tall chimneys. There is a large entrance hall, with pink marble columns, and a good suite of reception rooms. These have highly practical, tripartite chimneypieces, where the fireplaces are flanked by niches for turf and timber, all within handsome marble frames.
Clonalis houses the O Conor Archive containing over 100,000 manuscripts, some dating to the 16th century, the harp of Carolan (last and most famous of the wandering Irish bards) and a library of more 7000 volumes, many collected by the great 18th century antiquarian, Charles O Conor of Belangare. Its most important volume is The Book of O Conor Don, written by Irish monks in Ostend in 1632.
After Catholic Emancipation members of the family played a pivotal role in Ireland's history as Members of Parliament for County Roscommon. Today Clonalis is home to Charles Owen O Conor Don's great-grandson, Pyers O Conor Nash, his wife Marguerite and their family.
Information
Open to pre-booked groups (minimum 6)
Open to individuals
Open for overnight accommodation with dinner
Museum and/or art gallery
Holiday cottages for rent
Cultural activities or events
Available as a film location
Opening Hours
Open to Visitors 1st June – 31st August
Monday to Saturday
11 am – 5 pm.
Open by appointment April - October
Open to guests April – 30th September