Gloster House
Gloster House, Shinrone, Birr, Offaly, Ireland
t: +353 505 47948
e: alexander@glosterhouse.com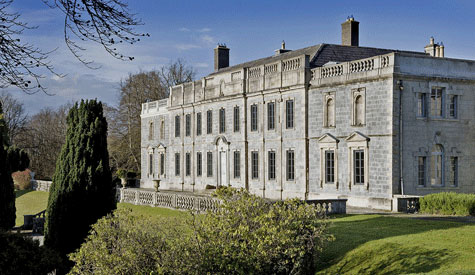 The House
Gloster is County Offaly's most important early 18th century house. The Lloyd family came to Ireland from Denbighshire, to serve in the army of King Charles I, and acquired the estate by marriage in 1639. Presumably they lived in the 17th century house until the building was enlarged in the 1720s.
Maurice Craig has pointed-out that "Gloster has features which can hardly derive from anyone other than Sir Edward Lovett Pearce (circa 1699-1733)". Craig feels that Pearce may have provided the design for his cousin Trevor Lloyd but left the execution to others, since "for all its charm, it is provincial in almost every respect".
Gloster is unusually long and low, with thirteen bays and two stories. The bays to either side of the breakfront have a series of elaborate pilasters, while the pairs of upper storey end-bays have Pearcean blind niches in place of windows.
The elaborate, double-height entrance-hall has a series of bust-filled niches while there is very grand upper hall on the piano nobile. This overlooks the entrance-hall though a series of round-headed openings.
Samuel Chearnley may possibly have had a hand in designing the gardens, which contain a canal, a lime avenue and a pedimented arch, flanked by obelisks in the manner of Vanburgh while a series of later terraces in front of the house descend to a small lake.
Gloster was sold in 1958. It became a convent with a new school complex built on the site of the stables. The school closed c 1990 and the house fell into disrepair. Happily Tom and Mary Alexander purchased the house and have carried out a thorough and sympathetic restoration.
Famous visitors to Gloster include John Wesley, who preached here in 1749, while the famous Australian "Diva" Dame Nellie Melba sang from the gallery in the upper hall in the early twentieth century.
Information
Park or garden open
Open to pre-booked groups (minimum 6)
Open to individuals
Cultural activities or events
Available for functions or corporate events
Available as a film location
Opening Hours
Open weekends in January
Open May 1st – 9th June