Corravahan
Corravahan , Drung, Ballyhaise, Cavan, Ireland
t: +353 87 9772224
e: corravahan@gmail.com
w:
www.corravahan.com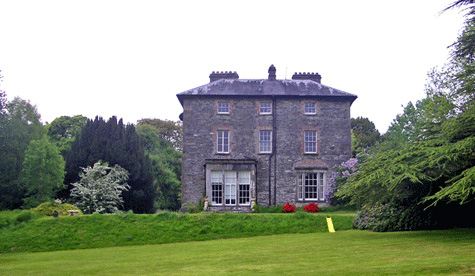 The House
Corravahan, or Coravahn as it was called by a number of former owners, is a substantial early nineteenth-century classical country house of about 1840 in a restrained Georgian style designed by William Farrell. The house, which was originally built as a rectory by the powerful Beresford family, replaced the original eighteenth century parsonage at Drung. Essentially a square, regular three-bay three storey block, over a basement, the West elevation has a full height two-bay bow, the entrance front has a single bay, single storey central porch, and there is a substantial return to the North.
The principal rooms on the ground floor include the drawing and dining rooms, study and library. The main bedrooms are on the first floor while the upper floors were used as a nursery floor and include a schoolroom.
Corravahan continued in use as the rectory until 1870, although it had been sold to the rector, the Reverend Charles Leslie, later bishop of Kilmore and a cousin of the Leslie family from Glaslough, or Castle Leslie. The house retains many of its original period fittings; chimneypieces, plasterwork, joinery and timber sash windows, many with their original glass panes.
The original ruled-and-lined lime rendering was removed from the South elevation in the 1890s, revealing the rubble limestone beneath, while the surrounding grounds include gardens and mature woodland, with many fine specimen trees and shrubs.
Bishop Leslie's descendants lived on at Corravahan until the late twentieth century. After the last lady owners died in the nineteen seventies, the house was only occupied occasionally until purchased by the present owners, Ian and Rachael Elliott in two thousand and three. The Elliotts have undertaken a sympathetic programme of conservation and repair, while the restoration of the eighteenth and nineteenth-century gardens is continuing. The upper yard contains a coach house and stables, along with former staff accommodation.
Information
School visits or programmes
Park or garden open
Open to pre-booked groups (minimum 6)
Open to individuals
Holiday cottages for rent
Cultural activities or events
Available for functions or corporate events
Available as a film location
Opening Hours
Open Jan 3-5, 9-12, 16-19, 23-26, 30-31, Feb 1-2, 6-9, 13-16, May 14-18, 21-25, 28-31, June 1, 4-8, 11-15, 18-22, Aug 19-30.
9.00 am to 1.00 pm (2.00 pm - 6.00 pm Sunday). Last admissions 1 hour before closing.
Adults €7.00 OAPs, Children and Students €5.00
Entry free to members of IHHA, Irish Georgian Society and The National Trust
Limited parking during restoration works
No dogs please