Ballynatray House
Ballynatray House, Knockanore, Youghal, Cork, Ireland
t: +353 24 97460
f: +353 24 97464
e: info@ballynatray.com
w:
http://www.ballynatray.com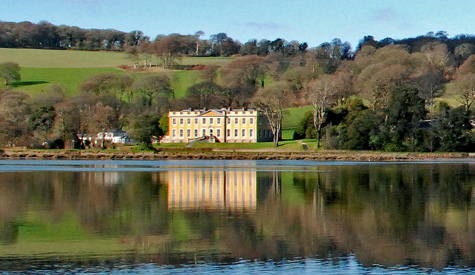 The House
Ballynatray on the River Blackwater in County Waterford, just upstream from Youghal, was granted to Sir Richard Smyth, brother-in-law to the Great Earl of Cork, in the early seventeenth century. His son's 'castellated residence' was largely destroyed in the rebellion of 1641 and his successor built a larger Dutch-gabled dwelling in the 1690s.
In 1795 this was incorporated into a very large Palladian house, built by Grice Smyth to the designs of Alexander Dean of Cork. The house is eleven bays long and five bays wide, with two storeys over a basement and a ballustraded parapet, originally decorated with elaborate urns. The river façade has a pedimented breakfront, while the three central bays of the entrance front are deeply recessed and filled by with a long, single storey porch.
The interior was clearly built for entertaining on the grandest scale. There is a sumptuous suite of interconnecting rooms, all with stupendous views; wide, double mahogany doors and some fine early 19th century plasterwork. The hall has a frieze of bull's heads (the Smyth crest) and the billiard room an imaginative cornice of billiard balls and cues. Originally, the bedroom floor had a curious curvilinear corridor but this has since been altered.
In 1843 Charlotte Smyth married the 5th Earl of Mount Cashel. Her son predeceased her, as did her young grandson, Lord Kilworth, so the estate passed to her daughter, the wife of Colonel Holroyd, who assumed the name and arms of Smyth. In 1969 their grandson Horace Holroyd-Smyth bequeathed Ballynatray to his cousins, the Ponsonby family of Kilcooley Abbey, who sold the house to Serge and Henriette Boissevain in the late 1990s. They subsequently carried out a major restoration programme and today Ballynatray is the home of Henry Gwyn-Jones.
The situation, on a double bend of the river which gives the impression of a very large lake, is unrivalled. Steep, oak-covered hills slope downwards on all sides while the ruins of Molana Abbey nestle amongst the trees on the riverbank. These contain the classical Coade-stone 'tomb' of Raymond Le Gros, one of Strongbow's knights, and a statue of the abbey's founder, St Molanside.
Beyond is Templemichael Castle, one of three tower houses guarding the Rincrew headland, once home to a Preceptory of The Knights Templar.
Information
Sporting activities or events
School visits or programmes
Open to pre-booked groups (minimum 6)
Open to individuals
Holiday cottages for rent
Park or garden open
Courses for adults
Available for weddings
Available for functions or corporate events
Available as a film location
Opening Hours
Gardens open June and July
Open at other times by appointment.
Molana Abbey open from Easter to end of September each Tuesday, Wednesday and Thursday.
Closed during high winds