Cappoquin House
Cappoquin House, Cappoquin, Waterford, Ireland
t: +353 58 54290
f: +353 58 54698
e: charles-keane@skynet.be
w:
http://www.cappoquinhouseandgardens.com/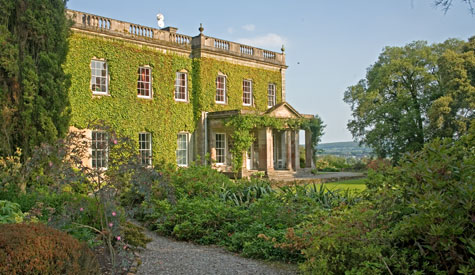 The House
The Keanes of Munster are descendants of an old Irish family, the O'Cahans of County Derry. In the Ulster Plantations of the early seventeenth century they lost their lands beside the River Bann and were resettled west of the River Shannon.
The family next rose to prominence as lawyers in County Waterford where they acquired the Cappoquin estate in the early 18th century. The River Blackwater, a famous salmon river, is tidal and navigable as far as Cappoquin, and the town originally developed around the mines and ironworks whose products were exported from its quaysides.
Cappoquin House, which replaced an earlier castle, is a cut stone classical building of 1799 with three formal fronts. The main facade faces south from an elevated site above the town, with a stupendous view straight down the valley.
Two possible architects have been suggested, with John Roberts of Waterford and the Sardinian Davis Ducart (or Davisco d'Arcort) who had a extensive practise in Munster in the late 18th century. Unfortunately no definitive information has yet come to light. 
In the 1920s Sir John Keane became a senator in the new Irish Free State. Politician's houses were targeted during the war that followed Ireland's independence and Cappoquin was attacked and burnt in 1922. Sir John was still sufficiently confident to have the house rebuilt in the 1930s, to the designs of Richard Orpen, brother of the famous portraitist. As a result the principal front became the garden front, with the rear of the house becoming the entrance, facing an enclosed courtyard.
Inside, Orpen's decoration faithfully follows the original with all the fixtures and contents reinstated since, with considerable foresight, Sir John had anticipated an attack and had arranged for these to be removed and placed in storage.
The garden, which covers the hillside above the house, is renowned for its fine planting and for the panoramic view of the Blackwater Valley, which opens up as you climb the hill.
Information
School visits or programmes
Park or garden open
Open to pre-booked groups (minimum 6)
Open to individuals
Holiday cottages for rent
Cultural activities or events
Available for functions or corporate events
Available as a film location
Opening Hours
House open 1st May to 31st July
9.00 am to 1.00 pm
Garden open all year round
10.00 am to 4.00 pm
Closed Sundays & Bank Holidays