Hamwood
Hamwood, Dunboyne, Meath, Ireland
t: +353 1 8255210
e: hamwood@ihh.ie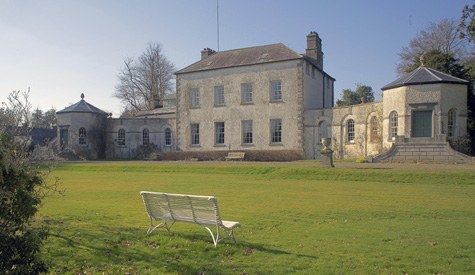 The House
In county Meath, just to the north west of Dublin, Hamwood is a small Palladian house of the 1770s, with a central block joined to little octagonal 'pepper-pot' wings by elegantly curved sweeps.
Unusually, one wing contains the main entrance, since the house as originally built was reputedly so cold that the family decided to place the hall door as far away from the main rooms as possible. The removal of the front entrance from the main block creates an interesting internal arrangement with a double drawing room, unusual in a house of this size.
There is good late 18th century decoration and an interesting family collection, including the intriguing drawings and paintings of Caroline Hamilton. These provide an important record of life in late 18th century Irish country houses and show us how life was lived, and rooms were decorated and used.
Hamwood's builder, Charles Hamilton, acted as land agent for the dukes of Leinster whose principal seat, Carton, is nearby, and the duke made him a present of the impressive fights of granite steps leading to the doors in the end pavilions. Successive generations of the family acted as the Leinsters' agents until the present owner's husband, Charles Hamilton, retired in the 1970s.
Information
Open to pre-booked groups (minimum 6)
Open to individuals
Park or garden open
Available for weddings
Available for functions or corporate events
Available as a film location
Opening Hours
Open 1st April to 31st July
Monday to Friday
And 1st and 3rd weekends each month
2.00 pm to 6.00 pm
At other times by arrangement