Borris House
Borris House, Borris, Carlow, Ireland
t: +353 977 1884
e: info@borrishouse.com
w:
http://www.borrishouse.com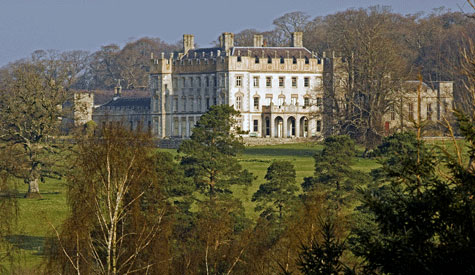 The House
The Kavanagh's of Borris were hereditary kings of Leinster. They descend from Dermot MacMorrough, whose daughter Aoife married Richard de Clare, Earl of Pembroke, otherwise known as Stongbow, at the beginning of the Norman invasion. Succeeding generations controlled this mountainous area of south Leinster from their power-base at Borris, maintaining the old Gaelic order. Frequently they were in open rebellion but at other times they were quiescent.
By the late eighteenth century Thomas Kavanagh represented Kilkenny in the Irish Parliament and, after its abolition, at Westminster. His very large, three storied seventeeth century house, which incorporated an earlier castle on the site, was damaged in the 1789 rebellion so he engaged Sir Richard Morrisson and his son, William Vitruvius, to restore and enlarge the building.
They retained the form and fenestration of the earlier house, and also the projecting towers at each corner, but gave the exterior a rich overlay in the neo-Tudor style, with a profusion of battlements and finials and a gothic porch. This was all extremely avant-garde when completed in 1820.
The interior is largely classical. The plasterwork in the hall is especially ornate and very fine; elsewhere the decoration is rather more restrained.
Thomas Kavanagh's sister in law was Eleanor Butler, who was sent to stay at Borris to keep her out of harm's way. In 1778 she escaped with her 'friend' Sarah Ponsonby, and together they became famous as the Ladies of Llangollen.
A later owner was Arthur MacMorrough Kavanagh, M.P., P.C., famous as an explorer and huntsman, and father of a large family despite the fact that he was born without arms or legs.
Perhaps due to its mediaeval origins, Borris is one of the very few Irish houses to be built so close to a town. The River Barrow winds through the undulating demesne, which has much fine timber.
Information
Sporting activities or events
School visits or programmes
Museum and/or art gallery
Cultural activities or events
Available for weddings
Available for functions or corporate events
Available as a film location
Opening Hours
Open 1.30 - 5.30 p.m.
May 1st, 5th, 8th, 10th, 11th, 12th, 13th, 14th, 15th, 17th, 18th, 19th, 20th, 22nd, 26th & 29th
June 2nd 5th, 9th, 12th, 16th, 19th, 23rd, 26th & 30th
July 3rd, 7th, 10th, 14th, 17th, 21st, 24th, 28th and 31st
August 4th, 7th, 11th, 14th, 18th, 21st, 25th & 28th
September 4th, 8th and 11th
October 29th & 30th, 
Deember 3rd and 4th
Adults €10
Concessions €8