Howth Castle
Howth Castle , Howth, Dublin, Ireland
t: +353 1 839 6182
e: info@howthcastle.ie
w:
www.howthcastle.ie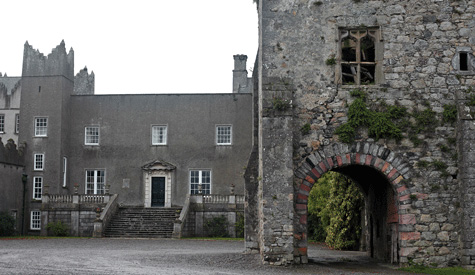 The House
Howth Castle has its origins in medieval times. In 1177 Almeric, the first Lord of Howth, came to Ireland with John de Courcy. Legend has it that on 10th August, the feast day of St Lawrence, he won a battle which secured his possession of the Howth peninsula, at Evora Bridge close to the Church of Ireland church. In gratitude for this victory he is said to have taken the name of St Lawrence and his descendants still own and live in Howth Castle today.
Almeric built his castle of wood above the harbour but it is evident from a deed that by 1235 a new castle had been built on the present site in the middle of the fertile land. This again would have been built of wood and the earliest extant parts of the present structure date from the mid-15th century.
Howth Castle has been extensively altered by succeeding generations, to adapt it to their requirements and the fashion of the day, most notably in 1738, when the house took on its current appearance and again in 1911 when Sir Edwin Lutyens renovated and extended the building. He liked the early Georgian style and his work carefully compliments the 1730s interiors.
It is still possible to see evidence of the alterations made over the years and deduce what was there beforehand. This gives a remarkable insight into how historic houses evolved in Ireland over the centuries.
In the early 18th century the castle was surrounded by elaborate formal gardens, with a canal and a series of interconnecting allées separated by outstandingly tall beech hedges. Part of this layout still survives.
The present owners are Julian & Christine St Lawrence and their family.
Information
School visits or programmes
Park or garden open
Open only to pre-booked groups (minimum 6)
Cultural activities or events
Courses for adults
Available for functions or corporate events
Available as a film location
Opening Hours
Demesne open all year round
Closed Christmas Day
Cookery school
Museum of Irish transport