Kilrush House
Kilrush House, Freshford, Co. Kilkenny, Kilkenny, Ireland
t: +353 56 8832236
e: rstgeorge@eircom.net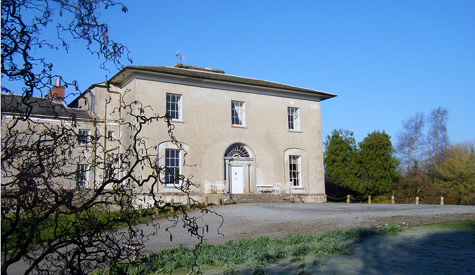 The House
The St Georges are a Norman family who 'came over with the Conqueror' and arrived in Ireland in the sixteenth century. They quickly became established in several different regions, with branches in County Kilkenny and in Galway, Leitrim and Roscommon.
The St Georges of Kilrush were active in political and cultural circles in the seventeenth and eighteenth centuries. Richard St George was an M.P. in the Irish Parliament, with a town house at No. 8 Henrietta Street, while his cousin St George Ashe was Provost of Trinity College Dublin and a close friend of Jonathan Swift. He was also a founding member of the Dublin Philosophical Society, which encouraged his numerous publications of scientific and national interest.
Richard St George considered moving out of his tower-house at Kilrush in the middle of the eighteenth century but this decision was left to his heirs, who built the existing house in the early nineteenth century to the design of William Robertson, an architect active in the area at that time, most notably at Kilkenny Castle.
Kilrush has a three bay façade, a five bay garden front, a hipped roof with particularly wide eaves and a single, very large, central chimney-stack, and an interesting ground plan. The cut-stone doorcase is a handsome arrangement of Doric half-columns and pilasters, supporting a deep entablature with swags beneath a semi-circular leaded fanlight. The ground floor windows to either side are set in shallow recesses with elliptical heads; otherwise the elevations are quite plain.
The most interesting internal space is the landing, a perfect Doric rotunda supporting a delicately glazed dome. This partly lights the inner hall below through a circular well in the floor. The dining and drawing rooms are both finely proportioned with many original fittings and furnishings, and their original wallpaper.
The house looks out over mature parkland to a large mill, almost half a mile off. 
Information
Open to pre-booked groups (minimum 6)
Open to individuals
Park or garden open
Available as a film location
Opening Hours