Greggan Castle
Greggan Castle, Ballyvaughan, Clare, Ireland
t: +353 65 7077233
e: bhgreg@gofree.indigo.ie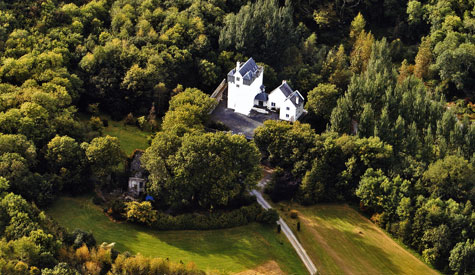 The House
Gregan Castle, which is on the northern edge of the Burren in County Clare, is not really a castle in the great house sense but is an example of an Irish tower house.
These dwelling were built in the late middle ages, largely in the fifteenth, sixteenth and seventeenth centuries. They occur throughout the Irish countryside but seventy per cent are found south of an imaginary line between Dublin and Galway. County Clare has a higher than average number while the neighbouring County of Limerick has the highest. Today most tower house are in ruins, though a number have been incorporated into later dwellings which can make them difficut to recognise at first sight.
Tower houses were really the forerunners of small Georgian country houses. They are not unique to Ireland (and are found widely in Scotland) but Irish tower houses developed an individual style. They were built both by Gaelic chieftains and by Old English settlers, and their size and level of decoration tended to reflect their owners' wealth and standing.
There has been a settlement at Gregan since the early middle ages. The present, rather squat, structure, with a rectangular plan, dates from the sixteenth century but it incorporates part of a larger and older castle. This was built by the O'Loughlen clan who styled themselves Princes of the Burren, and the region was formerly known as the Barony of Gregans.
Like most other tower houses, Gregan is surrounded by a bawn, an Irish word meaning an enclosure for cattle. This is reputed to have been destroyed by Cromwell's troops in the 1650s but was reinstated when the castle was restored in the 1990s. Bawns also gave protection to simple short-lived wooden dwellings, which were ususally "more comfortable (than the castle) if less secure".
There are traces of those who lived and worked here over the centuries. A sixteenth century artisan left his 'mason's mark' on a strategically placed stone while there is an interesting arrangement for smoking meat or fish.
There are also references to Gregan in local folklore. One owner felt insecure after his castle was remodled, since a section of the walls was thinner than intended. He prevented the masons from revealing the castle's hidden weakness by hanging them from the machicolation on the east wall.
The castle stands surrounded by woodland near the town of Ballyvaughan, on the road to the Corkscrew Hill. The Burren hills rise steeply behind.
Information
Open to pre-booked groups (minimum 6)
Open to individuals
Available as a film location
Opening Hours
Open 1st May to 15th June
And 1st November to 20th November
9.00 am to 1.00 pm