Lissen Hall
Lissen Hall, Lissen Hall Demesne, Dublin, Ireland
t: +353 1 840 5045
e: claire@lissenhall.com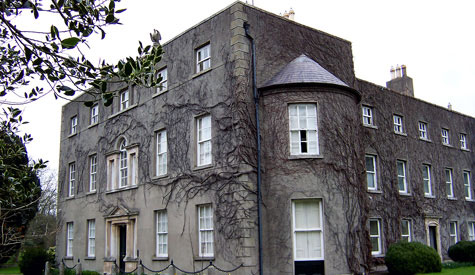 The House
Lissen Hall was constructed in at least two different periods.
The original house was a long, plain, gable-ended dwelling of the late seventeenth or early eighteenth century. Slightly later, though still in the first half of the eighteenth century, Lissen Hall was extensively remodelled and a new front built at right angles to the earlier house to form a large T-shaped building.
The new five-bay façade shows a typical mid-Georgian design, with a tripartite door-case and a Venetian window above. The tripartite arrangement is repeated on the upper storey, where the central window is flanked by two blind sidelights. There are projecting bows, with semi-conical roofs at either end, while the walls of the façade continue upwards without a cornice to form a parapet, adorned with urns and eagles.
These embellishments were clearly aimed at replicating Mantua, a neighbouring house now long demolished, which faced Lissen Hall across the tidal estuary of the Meadow Water.
Architectural drawings from 1765 can be seen in the house, which at that time was owned by John Hatch, MP for Swords in the old Irish Parliament before it voted itself out of existence in 1801. Lissen Hall later passed to the politically influential Hely-Hutchinson family, of nearby Seafield House.
In 1950 Terence Chadwick purchased Lissen Hall from the Hely-Hutchinsons, and it was subsequently inherited by his daughter, Lady Goff. As a result Lissen Hall has only been sold once in over two hundred and fifty years.
Information
Park or garden open
Open to pre-booked groups (minimum 6)
Open to individuals
Available as a film location
Opening Hours
Open 1st May to 30th June
Open by appointment only.  Phone during office hours 9.00 am - 5.00 pm.