Killineer House
Killineer House, Drogheda, Louth, Ireland
t: +353 41 9838563
e: charles.p.carroll@gmail.com
w:
http://www.killineerhouse.ie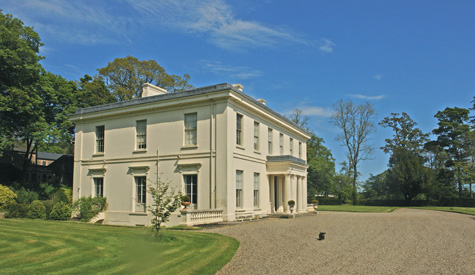 The House
Killineer House was built in 1836 by a prominent Drogheda businessman, George Harpur, who had made his fortune in the salt trade. He demolished a much smaller Georgian house from the 1750s, leaving just one room which was turned into a potting shed at the top of the walled garden. This still survives with remnants of its plaster panelled interior.
Unfortunately no information exists on the architect who designed the 1836 house or garden, partly due to the fact that when Harpur died in 1888 he left no next-of-kin and all records were lost. Over the next fifty years the house passed through the hands of four unrelated families, including the Montgomerys of nearby Beaulieu, until it was purchased by James Carroll in 1938.
Killineer is a classical late-Regency design of white stucco, two storeys high and six bays wide, with a parapet and a single story Doric porch in the centre of the facade.
The interior has an interesting layout with a hexagonal entrance hall and an inner hall where an imperial staircase leads to a top-lit landing above. The main rooms, halls and landing have elaborate Regency plasterwork and some unusual joinery, while the ante-room behind the drawing room has an elaborate plaster ceiling with a figure of Justice in high relief.
Harpur laid out seventeen acres of gardens which still survive today. These include an extensive laurel lawn beneath the deciduous woodland which surrounds the approaches and the formal Italianate terraces below the house which lead on to the centrepiece of the gardens, a large man-made lake,.
A classically-inspired summerhouse lies to one side of the lake, beside an attractive wrought iron bridge. This is contemporary with the principal house and includes many similar details. This area of the garden abounds with damp-loving plants, including a collection of candelabra primulas which also spread along the lake shore.
Behind the house is a large working walled garden of an acre and a half, laid out as a traditional kitchen garden with a double herbaceous border, vegetable plots and fruit trees, and a glazed necatrine house along one wall containing peaches, nectarines and apricots.
Killineer is now owned by James Carroll's nephew, Charles, and his wife Eithne.
Information
School visits or programmes
Park or garden open
Open to pre-booked groups (minimum 6)
Open to individuals
Available as a film location
Opening Hours
July 18th to 29th inclusive
9.00 am to 1.00 pm