Burtown House
Burtown House, Burtown House, Athy, Kildare, Ireland
t: +353 86 2631485
e: james@burtownhouse.ie
w:
www.burtownhouse.ie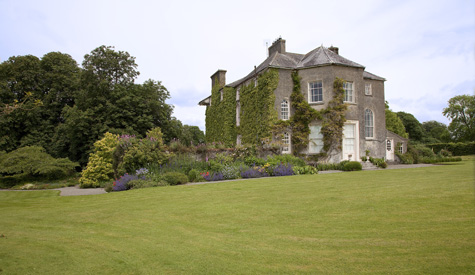 The House
Ballytore, in County Kildare, has long been a stronghold of Irish Quakers. One of their members, Robert Power, built Burtown House in the 1720s as the center of a two thousand acre farming enterprise.
His Georgian villa, originally only one room deep, is shown on early maps as "Power's Grove". Wings were added later in the century but subsequently these were removed, so that only their faint outlines are visible today.
In the late eighteenth-century Burtown was further enlarged by the addition of a new bowed room on the garden front, a large bedroom above and a grand staircase lit by a tall round-headed window.
Pretty plasterwork in the manner of James Wyatt was also introduced at the same time, most notably in an arched alcove in the bow-fronted room, which is likely to have been the original dining room. This is filled with a shallow fan and delightfully cursive sprays of vine leaves, and is flanked by a pair of classical vases on pilasters composed of foliage with naive Corinthian capitals.
Burtown, which has never been sold in all its three hundred years, passed from the Powers to the Houghtons and thence to the Wakefields, who gave the house a new wide-eaved roof, lengthened the sash windows, installed a new front door with a fanlight in a deep recess and carried out a number of other alterations.
When Mr. Wakefield was killed playing cricket Burtown passed to his sister, the wife of William Fennell, a Quaker from County Tipperary. Their son, William James, a keen horseman, "was asked to leave the Quaker congregation because of his fondness for driving a carriage with two uniformed flunkeys on the back".
Today Burtown is in the midst of two hundred acres of parkland, including ten acres of lush flower, vegetable and woodland gardens with many fine walks. The house has now been home to five generations of the Fennell family and to the acclaimed botanical artist and illustrator, Wendy Walsh.
Information
School visits or programmes
Park or garden open
Open only to pre-booked groups (minimum 6)
Museum and/or art gallery
Cultural activities or events
Available for weddings
Available for functions or corporate events
Available as a film location
Opening Hours