Lorum Rectory
Lorum Rectory, Kilgreaney, Bagenalstown, Carlow, Ireland
t: 0599775282
f: 0599775455
e: bobbie@lorum.com
w:
http://www.lorum.com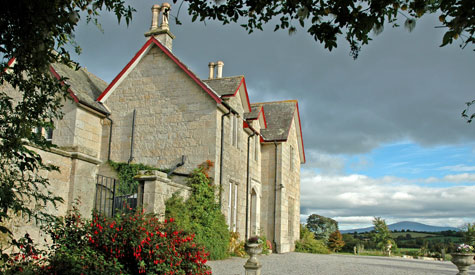 The House
The old rectory at Lorum dates from the late 1850s, when a local landowner, Denis Pack-Beresford of Fenagh, donated land for a new church and rectory.
Both were built at Kilgreany, a small hamlet below Mount Leinster in County Carlow, in the valley of the River Barrow about halfway between the market towns of Bagenalstown and Borris. The first Rector was the Revd. King Smith who was installed in 1863 and the house was used as a rectory until 1957, when it was offered for sale by the parish and bought by Tennant Young, father of the present owner.
Lorum is a restrained two storied gabled Gothic building of warm, golden Carlow granite and a fine example of a Victorian country Rectory. Its principal fronts are all of three bays, with a studied asymmetry that is falls just short of being symmetrical.
The main door is recessed beneath a wide gothic arch, which acts as a porch, while its solid, comfortable appearance embodies the religious certitudes of the Established Church of Ireland during its last decade of existence.
The interior is in a mild and restrained Victorian Gothic, bright and airy yet solid and respectable. While this rectory may well have been built to the designs of Welland and Gillespie, there is no doubting that its dominant influence is the religious architecture of Augustus Pugin.
To the north is a small, enclosed stable yard with a coach house for the rector's trap, a stable for his horse, and groom and servants' quarters overhead. Lorum is exceptional because both house and grounds have been so little altered, a fate shared by few Irish rectories today.
Information
Open for overnight accommodation with dinner
Available as a film location
Opening Hours
open for overnight accommodation with dinner
closed December and January