Celbridge Lodge
Celbridge Lodge, Celbridge, Kildare, Ireland
t: +353 1 6288347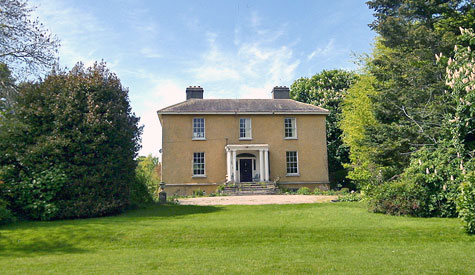 The House
Celbridge Lodge stands in a little grove of trees at the opposite end of the village from the impressive 18th century entrance to Castletown House.
Built in the 1830s by Giles Shaw, who owned the Celbridge cloth mill, there is a connection with Castletown in that William Conolly-Carew, 5th Baron Carew, was the grandson of Sarah Elizabeth Shaw, who married Thomas Conolly, M.P. for Donegal.
Towards the end of the 19th century Celbridge Lodge became the Church of Ireland Rectory and was known as Kildrought Parsonage. In 1915 the incumbent, John Winthrop Crozier, laid out two tennis courts before leaving to serve as a chaplain in The Great War, declaring "I shall be back to play on them".
He survived the war, was mentioned in dispatches and eventually became bishop of Tuam, Killala and Achonry.
Another notable clergyman who lived in the house was Lionel Fletcher, tutor to the painter Francis Bacon. Descended from a Dublin saddler, it was said of Fletcher that whenever he rode to hounds his horse was for sale.
In 1963 Lord Carew gave the parish a site for a new Rectory so the house, known locally as 'The Minister's', reverted to the name of Celbridge Lodge and became the home of Harry & Joan McDowell.
In Burke's Guide to Irish Country Houses Mark Bence-Jones describes the interior as 'Hall with modillion cornice and bifurcating staircase rising at its inner end. Drawingroom and diningroom ceilings with good 19th C plasterwork, cornices and ovals of foliage in centre'.
The walls are closely hung with 18th and 19th century topographical paintings, while the furniture comes from Harry's childhood home, Heynestown Cottage in County Louth, now demolished, and Highfield Hall in Flintshire, where his late wife's family lived.
The house appears in several books, including In an Irish House by Sybil Connolly, and Living in Ireland by Barbara and René Stoltie.
Information
Open to pre-booked groups (minimum 6)
Open to individuals
Opening Hours
Mornings only in May, June, July & August
Open only by prior appointment
Price €6.00 per person
Small groups welcome at other times by advance arrangement