Lismacue
Lismacue, Lismacue, Bansha, Tipperary, Ireland
t: +3536254106
f: +3536254126
e: info@lismacue.com
w:
http://www.lismacue.com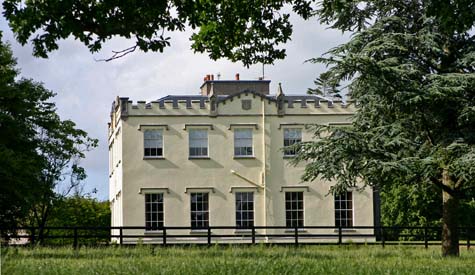 The House
In 1705 William Baker purchased Lismacue from Charles Blount and the estate has been owned by his descendants ever since.
The present house was completed in 1813 to the design of William Robertson, a two storey building over a basement in a mildly Tudor-Gothick style that is far more restrained than his more exuberant later work.
The external walls are rendered with 'eyebrows' over the windows and restrained pinnacles and crenellations, including, most unusually, a single small battlemented pediment on each front.
The façade is three bays wide, with a single storied Gothick open porch supported on elegant square columns. Its tripartite arrangement is echoed by the door-case behind. The two other fronts are both five bays wide while the lower wing to the north, terminates in a gable, almost entirely filled with a single large window with robust Gothick tracery
The interior is classically late Georgian, covered with a thin Gothick layer. The large rooms have good plasterwork, a fine wide staircase, and a wonderful set of mahogany doors on the ground floor. Several rooms retain their early wallpaper, dating from the 1830s.
Outside is fine open parkland, with wonderful views of the Galtee Mountains and the Glen of Aherlow, and a superb (and unusually long) avenue of lime trees, dating from the eighteenth century. The present owners are Jim Nicholson, and his wife Kate, who inherited Lismacue from her father, William Baker.
Information
Open for overnight accommodation with dinner
Available for weddings
Available for functions or corporate events
Available as a film location
Opening Hours
April - October