Bantry House
Bantry House, Bantry, Cork, Ireland
t: +353 27 50047
f: +353 27 50795
e: info@bantryhouse.com
w:
http://www.bantryhouse.com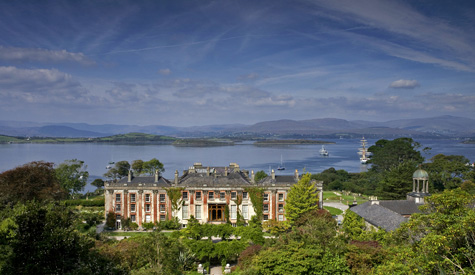 The House
In the 17th century the White family settled on Whiddy Island in Bantry Bay but later purchased a small Queen Anne house on the mainland called Blackrock. This subsequently became known as Bantry House.
In 1796 a large French invasion force set sail in an attempt to spread the Revolution to Ireland (and thence to England) but the fleet was beset by storms and by the time the ships arrived in Bantry Bay the troops were battered, seasick and unfit to fight. While they were recovering Richard White played a pivotal role in alerting the authorities and marshalling the militia, and his efforts proved so successful that the French delayed until another storm blew them completely out of the bay.
White became the hero of the hour, was ennobled as Lord Bantry and began the process of enlarging Bantry House by building a new two-storied range on the seaward side of the earlier three storey building, with two interconnecting drawing-rooms along the facade.  
In the 1830s his son Viscount Berehaven, afterwards the 2nd Earl, travelled extensively on the continent with his wife Mary. They kept a series of notebooks and sketchbooks which they used as a reference when transforming Bantry into a vast Baroque seaside palace. Spending lavishly, they amassed a superb collection of paintings, furniture and objects and, especially, of tapestries. They bought only the very best that Bantry became known as Ireland's Wallace Collection.
The 2nd Earl built a new fourteen bay range on the opposite (landward) side of the original house. This has bowed ends, brick architraves to the windows and giant red brick pilasters in the intervals between the bays, which contrast beautifully with the stucco facades.
The interior is a combination of magnificence and quirkiness, with Roman tiles from Pompeii, splendid French chimneypieces and a set of Gobelins tapestries reputedly made for Queen Marie-Antoinette. Yet despite this grandeur some of the interiors appear rather make-shift and several rooms have several different ceiling heights, since they are partly in the old house and partly in the new.
The equally magnificent stable range is just north west of the house, while the house and yards are surrounded by the Berehaven's Italian garden, with statues, balustrades and a set of stone steps which ascend the hill to give a panoramic view over the house to Bantry Bay, Whiddy Island and mountains beyond. 
Information
School visits or programmes
Open to pre-booked groups (minimum 6)
Open to individuals
Museum and/or art gallery
Holiday cottages for rent
Park or garden open
Cultural activities or events
Available for weddings
Available for functions or corporate events
Available as a film location
Opening Hours
Open 17th March to 31st October
10.00 am - 5.30pm Daily