Ballysallagh
Ballysallagh, Johnswell, Kilkenny, Ireland
t: +353 87 290 6621
m: +353 86 232 2105
e: geralynmwhite@gmail.com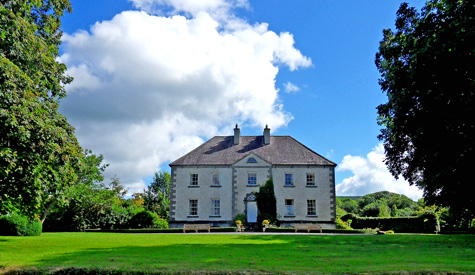 The House
Ballysallagh House, in the hills north of Kilkenny, is a charming example of an unspoiled house of the early Georgian period. The Purcell family, military allies of the Earls of Ormond, held the surrounding lands, which they forfeited under Cromwell but these were subsequently restored to Nicholas Purcell under a lease.
The house is of five bays and two stories over a high basement, and its early date (1722) is confirmed by a date-stone at the front door. It has a characteristically deep, steeply pitched, roof with pronounced sprocketing, a fanlight with Gothic glazing and a minute lunette window in the pediment.
The facade is reproduced in Maurice Craig in 'Classic Irish Houses of the Middle Size', where he draws our attention to a number of unusual details. These include a limestone plat-band in place of a cornice and gutters typical of the Kilkenny area, while the end quoins are bolder and finer than those of the single-bay breakfront.
Internally, the tripartite plan is typical. The hall, stairs and landing are designed to enhance the grandeur of building, while the first floor landing utilises the full height of the space between the stacks. Despite this, Ballysallagh is built on a very pleasing and intimate scale, with delightful period details such as the built-in shoe cricket at the bottom of the stairs.
The principal staircase is of wood, while the service stairs to the basement is built of local Kilkenny limestone. Ballysallagh is largely original, apart from some minor changes made to the entrance and staircase halls in 1810. These include a handsome internal fanlight and a matching glazed cabinet in the staircase hall.
The house passed from the Purcell family to the Byrne and Doyle families, until 1940 when it was sold for the first time. Kieran and Geralyn White bought the house in 1987 and have restored it carefully and authentically, and furnished it with great taste.
Outside, they have laid out herbaceous borders, a herb garden, maple walk and folly and the unusually deep Georgian ha-ha allows the front lawn to blend seamlessly into the surrounding park, where there are many fine trees.
Information
School visits or programmes
Open to pre-booked groups (minimum 6)
Open to individuals
Available as a film location
Opening Hours
Open July 23rd, 24th, 25th, 26th, 27th, 28th, 29th, 30th and 31st
Aug 1st, 2nd, 3rd, 4th, 5th, 6th, 7th, 8th, 9th, 10th, 11th, 12th, 13th, 14th, 15th, 16th, 17th, 18th, 19th, 20th, 21st, 22nd, 23rd, 24th, 25th, 26th, 27th, 28th, 29th, 30th, 31st.
9.00 am to 1.00 pm


Open at other times for groups by arrangement
No photography