Newpark
Newpark, Drumfin, Ballymote, Sligo, Ireland
t: +353 7191 83376
e: akitchin@eircom.net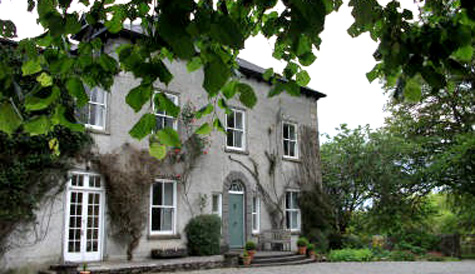 The House
The Duke family descends from John Duke who came to Sligo as one of Cromwell's adherents and was granted land at Kincreevin in 1662. The family flourished and prospered, and by about 1780 the Newpark branch was in a position to build a substantial new house.
Tradition attributes the building of Newpark to Richard King Duke, JP and Deputy Governor of Sligo (1770-1836) but as he was only a boy of ten in 1780 his father Robert (1732-1792) is a more credible contender. The design may well have come from the prolific Waterford architect, John Roberts, who had a large country house practice in the west of Ireland. 
Newpark is a medium-sized three bay house, of two storeys over a basement. The building is lime rendered with a hipped roof and a pleasant tripartite entrance, where the round-headed doorcase is flanked by narrow rectangular sidelights. 
The geometrical plan is most unusual, with four principal rooms of unequal size arranged around a small central hall, in a design reminiscent of a swastika. There is good decorative plasterwork in the drawing room incorporating the Duke arms and crest, three martlets with daggers and three feathers. Other notable features are the fine original staircase and a number of paneled doors.
Newpark was re-roofed and extended in the 1870s when some of the original features were changed and the windows remodeled. Then, in 1910, the family left Newpark, which they sold to Richard O'Hara, a younger son from nearby Annaghmore and Coopershill (q.v.) His grandson Anthony Kitchin lives there today with his wife Rosemary and runs the estate as a working farm.
The gate lodge, stable and farmyards are all contemporary with the house.The architect and writer Jeremy Williams has noted that "what strikes one today is the harmony of the whole ensemble. Entrance gates and lodge, lime avenue, house, carriage-house, farm yard and partly walled demesne are all proportionate to each other and reveal the unpretentious lifestyle of a typical west of Ireland squireen, a rare survival today"  
Information
Open only to pre-booked groups (minimum 6)
Available as a film location
Opening Hours