Newtownbarry House
Newtownbarry House, Bunclody, Wexford, Ireland
t: +353 93 76383
f: +353 93 76383
e: info@newtownbarryhouse.com
w:
http://www.newtownbarryhouse.com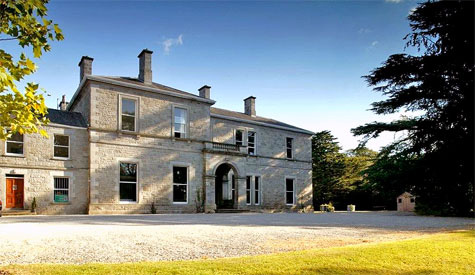 The House
Newtownbarry – both the estate and the adjoining town were called by the same name from the mid-seventeenth century until after 1922 – was developed by the Wexford branch of the 'old English' Barry family, reputedly descended from the Earls of Barrymore.
In 1719 Judith, the Barry heiress, married John Maxwell, MP for County Cavan and subsequently the 1st Lord Farnham. Their grandson John Maxwell Barry assumed his grandmother's name on inheriting her estates and built a new house called Woodfield before succeeding his cousin as the 5th Lord Farnham.
Newtownbarry remained part of Farnham estate until sold to the Hall-Dare family, who came to Ireland from Essex in the mid-nineteenth century, after The Great Famine. Their house was built between 1863 and 1869 under the direction of the Belfast architect Sir Charles Lanyon (1813-1889), assisted by his pupil W.H.Lynn  (1829-1915) and his son John. 
Built on the site of John Maxwell Barry's 18th century house, Woodfield, Newtownbarry is a large, asymmetrical house of local Carlow granite, in a restrained Italianate style.  The main rooms are grouped around the double height staircase hall, which contains an impressive staircase.
The 18th and 19th century gardens - the Sunken Garden and the Rose Garden - and the lake have recently been restored when it was discovered that the trees and layout of the Sunken Garden considerably predate the present house. The River Slaney, one of Ireland's premier spring salmon rivers, flows though the park which has fine trees and views of Mount Leinster and the surrounding hills.
Newtownbarry is still owned by the family who built the house. The present owner is Clody Norton, the daughter of Robert Westley Hall-Dare, who lives there today with her family.  
Information
Park or garden open
Open to pre-booked groups (minimum 6)
Open to individuals
Museum and/or art gallery
Courses for adults
Available as a film location
Opening Hours
28th May to 30th August
Open Tuesdays, Wednesdays, Thursdays, Fridays, Sundays and Bank Holiday Mondays
12.00 noon to 6.00 pm.
Garden €4.00  House €4.00 
Concessions for Seniors and Students €3.00  Children under 12 Free
Open at other times by arrangement
Afternoon Teas for pre-booked groups
Art Gallery
Art Courses
Studio with facilities for visiting artists