Glenlohane
Glenlohane, Kanturk, Cork, Ireland
t: +353 29 50014
e: info@glenlohane.com
w:
http://www.glenlohane.ie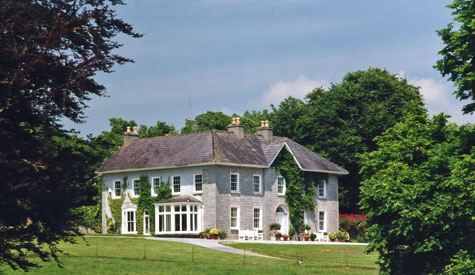 The House
Glenlohane is a mid-eighteenth century house of two stories, in the rolling North Cork countryside a few miles east of the market town of Kanturk. Surrounded by mature trees, the house faces east from an elevated site and looks out over terraced lawns to the park below.
The façade is of rubble stone and of five bays, with a central floating pediment gable above the single-bay breakfront, and a recessed front door surmounted by a fanlight. The southern side of the house is also of five bays, with a large bay window at its eastern end, while the steeply pitched roof has overhanging eaves.
The partially cobbled courtyard at the rear contains stables, a coach house and a granary, while the walled garden, to the northwest of the house, has a central allée of pollarded Hornbeam trees.
Glenlohane was built by John Sharp, of Mount Conway near Cork, in 1741. Today it is the home of his descendant, Desmond Sharp-Bolster, and his wife Melanie.
Information
Open for overnight accommodation with dinner
Available as a film location
Opening Hours