Ballinderry Park
Ballinderry Park, Kilconnell, Ballinasloe, Galway, Ireland
t: +353 90 9686796
m: +353 86 6055042
e: ballinderrypark@gmail.com
w:
www.ballinderrypark.com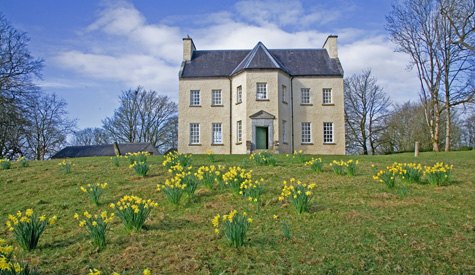 The House
Ballinderry Park is a small Georgian house of c.1740, rising from the plans of East Galway like a Palladian dolls' house. Ballinderry, which means 'townland of the oak trees', originally belonged to nearby Kilconnell Friary, a Franciscan foundation of 1280. In the late 17th century the land passed to the Diocese of Clonfert and was leased to Henry Stanford, who 'discovered' Catholic landowners in return for a portion of their sequestered estates.
It seems that Stanford failed to prosper since he soon leased his house to Lawrence Ward, from an Irish family long resident in the locality. His tenancy was inherited by his sister and passed to her son Nicholas Comyn. His descendants farmed this small property, sandwiched between some of County Galway's largest estates, where they were closely involved with horses and hunting. They purchased the freehold after the Church of Ireland was disestablished in 1871.
Nicholas's son Andrew married Mary, granddaughter of Daniel O'Connell 'The Liberator', and the family moved out after their son's death in 1945, when the Land Commission subdivided the property and the house became derelict.
George and Susie Gossip bought Ballinderry in 2000 and began a careful restoration. They reversed some Victorian changes to the façade and by 2005, work had progress sufficiently to allow them move in. The hall, staircase and landings, which take up a third of the house, have been authentically restored, while the principal rooms have been panelled in the early 18th century style and given early chimneypieces.
George and Susie have filled the house with their collection of furniture, pictures, porcelain and objects. Much of this was passed down from Susie's ancestors, the Dillon family from nearby Clonbrock, so that it is, in effect, returning home. Ballinderry is surrounded by fine specimen trees, including a large and remarkable London plane, rarely found in a parkland setting.
Information
Sporting activities or events
School visits or programmes
Open to pre-booked groups (minimum 6)
Open for overnight accommodation with dinner
Cultural activities or events
Courses for adults
Available for functions or corporate events
Available as a film location
Opening Hours
Open to visitors by arrangement
Open to guests 1st April to 30th September
Open other times by arrangement